Box Office Numbers of the Beast: The Buzz on Saw IV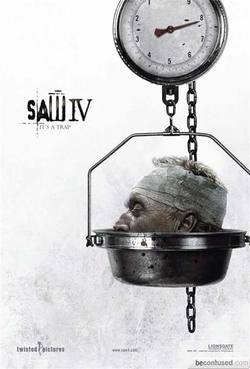 It was horror to the rescue as Saw IV had a big opening over the weekend. It did around $32 million which is double what 30 Days of Night did on its opening weekend and $20 million more than the number two movie (some comedy with some over-saturated TV star).
That series has some loyal fans, boy. It wins its week with almost the same amount of money each year. Take a look at this chart, if you're into that kind of thing, and see how movies have opened historically on Halloween weekend. You'll find the three Saw sequels lining up as 1-3.
There are some pretty funny non-horror entries on there, like Brother Bear. Maybe it's early, but it made me giggle. Happy Halloween, little guy.
Looking at the regular weekend chart, it was surprising how much 30 Days of Night dropped off. It was like there was an old school monster movie to choose from and a new school torture porn to choose from, and the kids went for the torture. I don't know if that inspires any confidence for next year…except for the guaranteed $30 million they can expect for Saw V.
Read More