Box Office Numbers of the Beast: Holding Pattern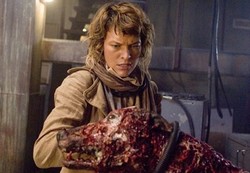 Here we see what could be a metaphoric image of our beloved Milla staring in horror at the charred remains of Resident Evil: Extinction's box office. Though the collapse was not as precipitous as that of the New York Mets, this week, RE:E did less than half of the business it earned in its opener.
Not the best week overall for our genre at the box. No big opening, as it looks like all the big-deal flicks are waiting for the month to develop a little more fully. They're hoping for folks to get a little more into that Autumn spirit before hitting them with Saw IV and 30 Days of Night.
Nothing more fun than a cold night at the theater groaning at the latest sickflick.
Some of the movies we've been talking about are still pulling in a few bucks. Just check out the chart on the Box Office Mojo site, and you'll see Dragon Wars keeping barely aloft and Halloween, good old steady predictable Halloween nestled right underneath it. Zombie's "re-imagining" ended up being a moneymaker.
They might have to hold us aloft for a while, on account of the coming weekend not having too much slated for it. We might have to adopt The Seeker: The Dark is Rising. It's a kid's movie with a horror title. Wild!
Wait, maybe that weird national revival Thursday screening of Poltergeist will catch a few greenbacks. I've already bought my tickets. They've made at least $10 already. let's see if it registers.
Read More