Battlestar 4th Season Premiere Delayed Until 2008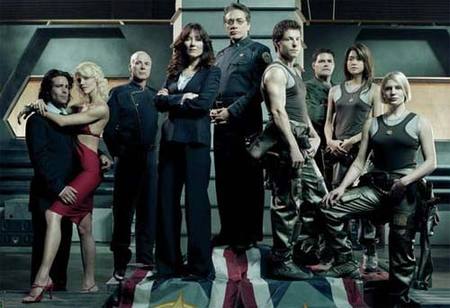 After months of equivocating and waving their hands noncommittally about, the SciFi Channel has finally committed to air dates for the fourth season of Battlestar Galactica. Unfortunately, they're a long ways off: even though half the season is already in the can, the SciFi Channel says that because of the Hollywood Writer's Strike (which now appears to be a dead certainty), the earliest we'll see the fourth season premiere is April, 2008.
I think everyone who is following the Hollywood strike knows that, when all is said and done, there's going to be a lot of decisions made that no one's going to be happy with. Essentially, if the Writer's Strike goes through, we are all going to be watching reality television and game shows for most of the next year, and all of the episodic dramas that we love so much (like Lost and Heroes) are going to unceremoniously go on hiatus. Not only is it going to suck for fans of these shows, but it's going to make my job a hell of a lot harder.
The decision by SciFi to delay airing Battlestar Galactica's fourth season until 2008 isn't as cynical as it first appears either. Rumor has it that as of early this week, Moore needed to write six more episodes before November 1st, which is just clearly impossible. Delaying the start of the fourth season until 2008 hopefully means we'll all be able to watch BSG in one uninterrupted run.
Even so, there's something incredibly frustrating about knowing that SciFi could start airing Battlestar Galactica episodes now, but is choosing not to. What do you think? Would you rather see half of Battlestar Galactica now and half when the strike is over, or would you rather wait to see it all in one, long spurt? Let us know in the comments.
Battlestar Galactica Delayed Until 2008 [LA Times]
Read More