Astroboy Movie Scheduled For 2009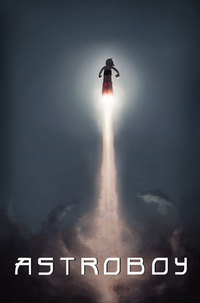 A shot of a boy robot rocketing into the sky and silhouetting himself against a hazy sun — you wouldn't think this teaser poster for 2009's Astroboy movie would be enough to get me excited. But you'd be wrong. I am the world's biggest Astrofanboy.
I am not joking. As I write this, I am wearing an Astroboy t-shirt with a holographic decal on it which exposes Astroboy's holographic bones when the light hits it the right way. Since it is morning, I am also wearing a pair of Astroboy boxers (with the excellent touch of a couple of two-dimensional machine gun barrels ironed on to the buttocks). My current laptop background is Astroboy and I even carry around a similarly holographic Astroboy coin pouch to contain the constant jangle of Europe's largely coin-based currency.
Needless to say, new girlfriends tend to arch their eyebrows into fuzzy halos hovering around the peak of their head when they first begin to date me, but I don't care: Osamu Tezuka's Astroboy is the tops. Short of Herve's Tin-Tin, you'd be hard pressed to find a comic series so earnest, humorous and adventurous, one that fills kids with wonder while not pandering to their presumed infantilism. I discovered my second boyhood as an adult largely through Astroboy.
Which brings me to the reason I'm so excited: I had no idea they were even doing an Astroboy movie. Better yet, it will be animated, not live-action like the upcoming Speed Racer. It's scheduled for 2009, which is quite a wait, but they can take all the time they need as long as they get Osamu Tezuka's wry charm and wondrous spirit right.
Astroboy Teaser Poster [Latino Review]
Read More