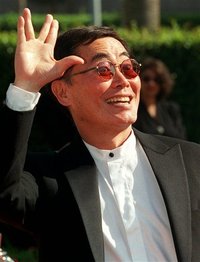 George Takei, the Star Trek and Heroes alum, has been immortalized in the sky: an asteroid between Mars and Jupiter has just been named after him.
The decision was approved by the International Astronomical Union and the cold, dead hunk of space rock was christened "7307 Takei."
The name was initially suggested by Tom Burbine, a Massachusetts astronomer. In what can only be considered a desperate show of trying-too-hard, Burbine cited Takei's admittedly admirable work with the Japanese American Citizens League and the Human Rights Campaign as his inspiration without once mentioning Takei's role as Mr. Frickin' Sulu. Sorry, Tom. We're not buying it.
Takei's response, as usual, is wonderful:
"I am honored, indeed transported to the galaxies, to know that my name has been assigned to an astronomical object in our solar system," Takei said. "I am yet to come down to Earth."
The quote is even better if you imagine it read in Takei's resonant and genital-melting baritone.
I have long thought that Takei was brighter than all the stars in the heaven by far, and I am glad to hear that he is finally taking his immortal place among them. Although, really, they should have named him after the brighest white dwarf in the sky.
Astroid Named After Takei [Slice of Sci Fi]
Read More