Argento's "Mother of Tears" Coming Soon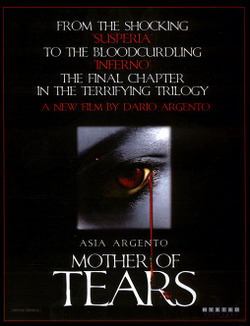 With the Halloween night opening of Dario Argento's Mother of Tears in Italy, American horror fans are eagerly awaiting a U.S. release date. Now, it looks like we'll get our blood-stained hands on the film through Myriad Pictures and later, DVD distribution. When will the Mother of Tears reveal herself? Myriad Pictures "will be putting it in theaters—sooner than you think," said script co-writer Adam Gierasch. Considering Fangoria also mentioned magazine coverage "this winter," lets hope the film will see a December release in the States. Mother of Tears will complete the trilogy Argento started with 1977's classic Suspiria and continued in 1980's Inferno.
"It's very different from either Suspiria or Inferno. For one thing, the scope is much bigger—instead of being set in one building, it takes place all throughout Rome. The ending is absolutely outrageous—there's nothing wrong with naked, hot witches," Gierasch said. "In some ways it has a more naturalistic look, coupled with a kind of surreal outrageousness. Don't expect the same thing that he did before; I don't think Dario wanted to repeat himself."
Read More