Are You Ready for Scream IV?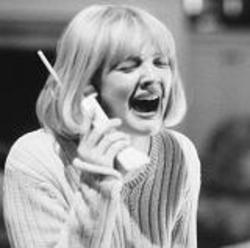 AHHHHHHHH! "Don't Answer The Phone. Don't Open The Door. Don't Try To Escape."
Erik Davis at Cinematical found a nice tidbit at the Weinstein Company blog. Says Davis, "According to this really weird blog called, quite simply, The Weinstein Company, the boys have officially greenlit Scream 4.
It appears as if this is some sort of company blog promoting all things
Weinstein, but I still have to warn you to take this with a grain of
salt, even if it does come with quotes.
Anyway, here's the so-called official announcement: 'The Scream
franchise has become a cult classic. Together, all three movies have
grossed over $300 million at the box office. The fans have been asking for a 4th Scream movie for years and
we're finally giving it to them. As far as details go, we're only in
the planning stages and we may not get around to it [Scream 4] for
quite some time, but rest assured, it will happen.'"
I know you guys generally like remakes. So, are you ready for Scream IV, whatever the scream may be?
Read More