Are The Goonies Still Good Enough?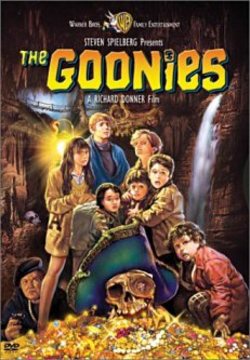 There's been a lot of tongue-wagging about The Goonies II in the past couple of months. Is it happening? Is in not happening? Well, today, Cinematical's Erik Davis is all hopped up about what he thinks may be news that will lead to the sequel of one of his favorite films.
The basis for the enthusiasm? Says Davis, "it's beginning to look more and more like Steven Spielberg and Richard
Donner are quietly attempting to put it together. And with the entire
original cast! (Well, those who are still alive, mind you.) Both Corey Feldman and Sean Astin recently chimed in, alluding to the fact that they had been approached to work on it. And, now, Empire reports that they've spoken with Jonathan Ke Quan who confirmed that he, along with Jeff Cohen
(Chunk), have been made aware of the possible sequel. He says, "We were
approached a few months ago by Warner about doing it and asked if we
would be interested. They even showed us character designs. It looks
very cool."
I like the original, but not as much as Davis. It's a stupid reason? I hated the Cyndi Lauper theme song, which I heard so much on the radio, over and over, that the movie was tainted for me. The weird thing? I liked pretty much everything else Lauper did at the time.
Read More