Anthony Hopkins Wants To Be Obi-Wan Kenobi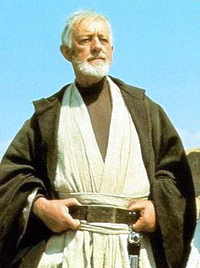 Anthony Hopkins is no stranger to stepping into the shoes of other UK thespians. People who saw Michael Mann's Manhunter would have been hard pressed to imagine another actor besides Brian Cox as Hannibal Lecter before Silence of the Lambs. Anthony Hopkins stepped in to provide the voice of Lawrence Olivier when Spartacus was re-released. And now Hopkins seems like he might be open to the possibility of stepping into the shoes vacated by Sir Alec Guinness and Ewan MacGregor and take a stab at the role of Obi-Wan Kenobi.
In an interview with MTV that was mostly spent slagging off the Harry Potter novels, Hopkins seemed surprisingly appreciative of the Star Wars series, even enthusiastic about taking a role in the series in the future. When MTV told him there was a Star Wars series coming out that took place between Episodes 3 and 4, he responded: "Maybe I could play the Alec Guinness [part]."
He's likely joking, and I doubt the Star Wars television series will feature any characters from the films who don't conveniently wear helmets or masks of some kind, but I actually think Hopkins would make a fantastic Ben Kenobi… perhaps a few years younger than the Obi-Wan we saw in A New Hope, but still old enough to account for Hopkins' gray hair and wise old eyes.
There's no chance of that happening, of course, but it's good to know that Hopkins, at least, would love to take a stab at it.
Anthony Hopkins Looks Towards A Galaxy Far, Far Away [MTV Movies Blog]
Read More