Angels Felled By Serial Killers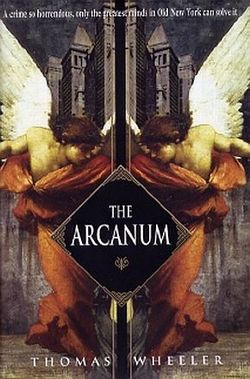 Blood Disgusting reports today that Thomas Wheeler's debut novel, The Arcanum, will be directed by Randall Wallace (who wrote Braveheart) and scripted by Wheeler himself. The Arcanum has a terrific plot: "the
1919-set story follows Arthur Conan Doyle as he leads a secret society
known as the Arcanum — whose members include magician Harry Houdini,
voodoo priestess Marie Laveau and horror writer H.P. Lovecraft —
against a powerful supernatural force that threatens the world." Those forces include demons wreaking havoc upon New York City — including one monster who's a serial killer of angels.
I've perused the book and can tell you that the opening chapter begins compellingly with four actors, a summer storm, a creepy, creeping fog and an evil avenging angel. It's not literature, but if they do this right (and I mean carefully and thoughtfully), it'll scare the pants off us. Yet I'm not sure any novelist should adapt his own novel. Look what happened to Jay McInerney when he wrote the script for Bright Lights, Big City in the 80s: big bomb. Has anyone read all of The Arcanum?

Read More