Almost as Scary as a Muppet, It's The Giant Claw!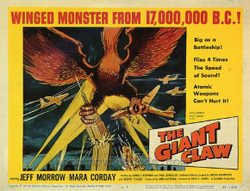 Be still my beating heart! After years in which it never even received a VHS release, 1957's The Giant Claw has been released on DVD. It's part of a four film package of movies produced by Sam Katzman that also includes Creature with the Atom Brain, Zombies of Mora Tau and The Werewolf, but forget about those—Claw is the one to have.
Claw is one of an astonishing 46 movies made in eight years by the prodigiously prolific Fred F. Sears. He made nine movies in 1956 alone, including his best work, Earth vs. the Flying Saucers (borrowed footage from which provides the best parts of Claw). It's no wonder he died of a heart attack in 1957, at the age of 44.
The titular terror in this sci-fi thriller is a leading candidate for the most ridiculous looking movie monster of all time, at least in a movie made by professionals. A badly manipulated marionette that looks like the progeny of Larry Fine and Marty Feldman, it was apparently constructed at the last minute when the filmmakers ran out of money.
What makes the film even funnier is the buildup this absurd bird gets. For most of the film (in true 50s style) we get only partial glimpses of its claw. Scientists (in impressive looking white smocks) tell us it's from an "anti-matter universe," protected by a force field. It attacks the major cities of the world, leading to global martial law. So by the time the movie gets near its climax and we're getting ready to see the beast, we've really got our hopes up.
Here's how star Jeff Morrow remembers it:
"We shot the film before we ever got a look at this monster that was supposed to be so terrifying. The producers promised us that the special effects would be first class. The director – Fred Sears – just told us, 'All right, now you see the bird up there, and you're scared to death! Use your imagination.' But the first time we actually got to see it was the night of the premiere. The audience couldn't stop laughing. We were up there on screen looking like idiots, treating this silly buzzard like it was the scariest thing in the world. We felt cheated, that's for sure, but they told us afterward that they just ran out of money. They couldn't afford anything but this stupid puppet. But it was just terrible. I was never so embarrassed in my whole life."
Think I'm exaggerating? Take a look:
Read More