After Dark Walks Mulberry Street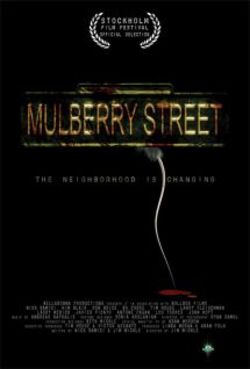 Movies that take place in New York City have a certain energy – even when they're mediocre. Hopefully, mediocrity won't be an issue with Mulberry Street, just picked up by After Dark for its big HorrorFest, according to Variety. It'll hit 300 theatres beginning on November 9 and the story, says Variety, "follows tenants of a Gotham building in summertime as they
uncover a sickness that's turning residents into rat zombies."
How did the film get made? EFIlmCritic had the scoop a while back when the site interview director Jim Mickle: "Nick Damici (writer/actor) and I were friends and spent a lot of time
pipe-dreaming about how great it would be to make a movie together. We
tried to do a few things on our own, but they never took off. Along
came another friend and talented actor, Tim House. He too was
frustrated about the business, and so he offered to pitch in some
financing and help get the ball rolling. Out of necessity, Nick rewrote
a rural zombie script he had, and it became this urban rat-zombie
script, because we knew we had access to New York locations and New
York character actors.
The rest was just a matter of sheer momentum and
the production was rounded out by the enthusiasm and excitement that
the film took on. We shot the whole thing in about 3 1/2 weeks, mostly
all of it in Nick's one-bedroom apartment. The crew was small but very
experienced and we pulled every favor we could come up with. I edited
the film, did visual effects, and with the help of another guy, sound
designed the crap out of it. A year later we had our world premiere in
Stockholm, and now we start the spring of 2007 with so far 5
high-profile festivals." I love a DIY indie film. Has anyone seen Mulberry Street at previous festivals?
Read More