A Groundhog Day for Horror Lovers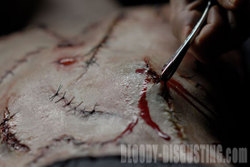 Some people don't like needles. I, personally, don't like seeing humans being cut. I mean, I wrote a medical article once and stood next to a surgeon as he sawed open the chest of an old lady as the prelude to open heart surgery. Even though I was sprayed with marrow, the reality of surgery didn't bother me.
But it bothers me in horror films. That's why I had to share this still from Bloody Disgusting regarding the upcoming movie, The Deaths of Ian Stone. Says BD, the flick "tells the story
of an all-American guy who is murdered each day by horrifying pursuers,
only to wake up in slightly different lives to experience the terror of
being murdered again. And we thought Groundhog Day was brutal!" Sounds like a fine, horrifying concept to me.

Read More