8 Days Until 30 Days of Night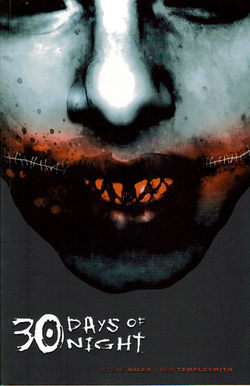 Sometimes a movie will hype you and sometimes you can hype yourself. I guess the best marketing campaigns are the ones that make you feel like you did the work to get excited about the movie, and all you have to do is go see it.
The subway posters, what you guys in flyover country call billboards, for 30 Days of Night have been minimal; they're just weird cool images that maybe make it seem like the movie is like 300 with monsters.
Though, I guess 300 had monsters in it.
Regardless, they're not like the texty ones that say, like, "The scariest overstatement this hype of hyperbole! Scary authority say go see!" It sort of just builds a general awareness and encourages you to look it up.
Take the the leap to see what happened when I did.
I found a pretty decent trailer that started off sort of run-of-the-mill, but suddenly soared to awesome heights of awesome when the vampire's fingernail hits the record. Check it out here – 30 Days of Night trailer
Then I read the Graphic Novel which reads exactly like a movie, and then I watched the trailer again and saw it looks like they sort of nailed it and maybe enhanced it.
Then I scored an interview with writer Steve Niles for the Horror department video. That should air next week when the movie opens. Pretty good timing.
Anyhoo, I went and got myself all excited. All they did was sort of lay the stuff down for me to pick up instead of getting all in my face. It worked. Can't wait.
Anything you want me to ask Steve Niles?
Read More