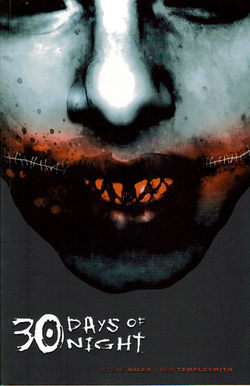 Caw! Why are you here reading this instead of at the theater watching 30 Days of Night? Better to see it during the safety of daylight methinks on account of actual vampires being so vain, they're sure to run out to the theater tonight to check themselves out. They'll probably be hungry afterwards on account of the "value" sized popcorn never being enough for them.
If the video interview below doesn't whet your appetite, and the previews don't have you frothy, and the fact that all of the other horror releases were too scared to challenge it doesn't make you think it's going to be good, then all the marketing or word of mouth or hot poster action won't do any film any good ever.
Alls, I'm cawin' atcha, goatlings is…it looks good to me. Tell Demitrios the Owl to hold all my caws, we're on our way to the cinema.
See you there!
30
Read More