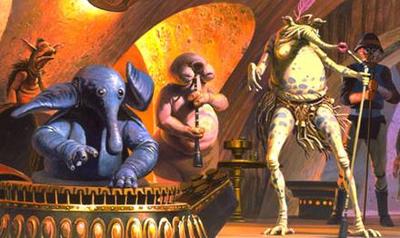 Here's some fun Science Fiction songs to put on your next mix tape…
Flash Gordon by Queen
A melodramatic epic that's as awesome as it is gay.
Telstar by The Tornados
When the satellite TELSTAR launched in 1962 it promised to change broadcast communications for Earth. It also inspired this classic surf-rock tune.
The Vanishing Spies by Frank Black
Frank Black has written a plethora of songs about aliens and UFOs, one of his finest comes from Teenager of the Year.
Ramble On by Led Zeppelin
The song mentions Gollum and Mordor. It's a good '70s rock track to include on a mix tape, much better than Leonard Nimoy's The Ballad of Bilbo Baggins. I've also heard that Stairway to Heaven is about Saruman's journey to the west.
Chewbacca by Supernova
Supernova's tribute to cinema's baddest Wookie warrior, featured in the Clerks soundtrack.
Gamera Soundtrack
Easily one of my favorite songs about a giant flying super-turtle.
2112 by Rush
The first side of this album (back when music came in two-sides) is a musical journey based on Ayn Rand's Anthem wherein the young hero discovers an ancient guitar and battles a Fascistic Council of High Priests. Good stuff for your inner 14-year-old!
Creature Without a Head by Lenny & The Squigtones
Next time you're at a flea market, flipping through vintage comedy LPS, look for the album Michael McKean and David L. Lander put out as their Laverne & Shirley alter-egos. The songs are catchy and funny, much the way Spinal Tap mocks Heavy Metal, Lenny & The Squigtones skewers the '50s nostalgia-craze of the 1970's. Highlights include a love theme written for a 1950's B-movie called The Creature Without a Head.
The Blob by the Five Blobs
I have to admit, I never got into the movie The Blob. I know, I know, it's a cold war classic. I guess I'm glad I saw it because I'd seen Killer Klowns from Outer Space without realizing it was a Blob parody. Also, the Burt Bacharach-penned theme song is killer.
King Kong Jam by Jack Black
In 2005, Jack Black hosted Saturday Night Live and finished his monologue with a song he'd written for the movie King Kong. It's still unclear why Peter Jackson didn't use this gem.
Right Wing Pigeons (From Outer Space) by the Dead Milkmen
This early 80s punk song wonders why people subscribe to conservative politics. Their answer echoes john Carpenter's They Live, claiming that Reaganites are alien invaders.
Did we forget any? Besides William Shatner's version of "Rocketman," I mean.
Add your song picks to our comments.
Read More