Weinsteins Pick Up Romero's "Diary"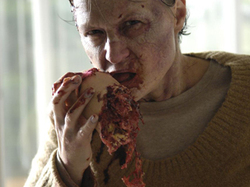 Good news, everyone! (Yes, that is my Professor Farnsworth from Futurama impression, by the way).
Variety reports that The Weinstein Company has ponied up a cool $2.5 million for George A. Romero's Diary of the Dead, making one of the few big sales of the festival so far and the only one of the Midnight Madness titles to get picked up, although inside sources tell me that Dario Argento's Mother of Tears is also close to landing a U.S. distributor. The best part of this is that the deal includes a planned early 2008 theatrical release, although the Weinsteins often shuffle release dates around like a dealer shuffles cards, so we'll see .
On top of this, Variety also gave the film a rave review, calling it "[A] gripping, intimate genre triumph". We'll be seeing the film at Fantastic Fest in Austin next Thursday (providing our flight isn't delayed) and will report back on it first thing Friday morning. Can't wait!
Read More