We Can Build You: R2-D2 edition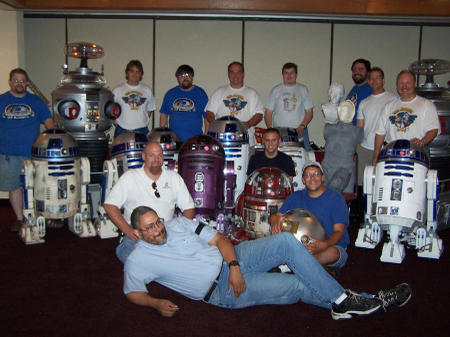 Do you like to tinker? Do you like Star Wars?
Well, brother have we got a web group for you!
At Astromech more than 5,000 members share thoughts and ideas about one common goal: building their very own life size R-Series droid. (as seen in the movies Star Wars, Return of the Jedi and The Phantom Menace.)
The club can tell you where to buy droid parts, what you'll need to build a droid, and how to attend a fan convention. (The groups regularaly attends events like Star Wars conventions and this past week's Dragon*Con)
According to Dave Everett, who founded the group in 1999, droids have been built for as little as $500 to as much as $40,000.00. Dave explains, "it all depends on how much work you do yourself and what you want your droid to do." The robots have been built from materials including wood, metal, plastic and fiberglass; with functions like a rotating dome, a working periscope, a life form scanner and the classic retracable center leg.
Imagine this: having your very own R2-D2 in your home will be a great conversation starter. But remember, those conversations may start with "So, I see you're a big nerd…"
If building a life-sized Star Wars droid isn't your thing, don't worry — you can devote your time to other hobbies, like How to Build a Dr. Who Dalek.
Read More