Visualizing the Tesseract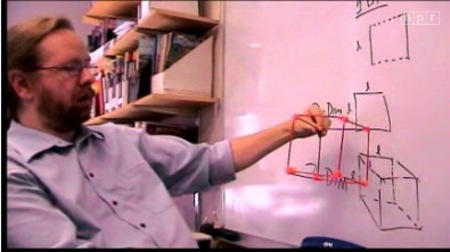 In Madeleine L'Engle's A Wrinkle in Time, tesseracts are utilized to "fold" space and time, allowing the protagonists to travel the universe.
The tesseract isn't really a difficult concept to wrap the mind around. It's essentially a fourth dimensional square, undulating through time. If a single side of a square is one dimensional, and the entirety of the square is two dimensional, and a cube is three dimensions, a tesseract is a cube as seen as a static object through the finite or even infinite duration of its existence.
That's not too head a concept to wrap the head around, but visualizing it is something else entirely. NPR has posted a gorgeous little video piece up on their website to honor the death of Madeleine L'Engle last week, in which Physicist David Morgan helps us understand and visualize the tesseract. A lovingly wrought little piece and the perfect tribute to a great woman who, no matter how long she lived, would have died before her time.
A Four-Dimensional Tribute to the Late Madeleine L'Engle [NPR, via Boing Boing]
Read More