Viggo Mortensen Cormac McCarthy's Post-Apocalypse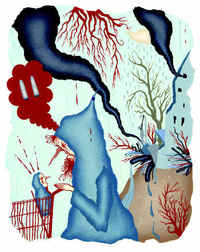 Cormac McCarthy's The Road is a harrowing tale of the dark end of paternal love, where a bullet to the head of your son is the only true legacy you can leave him in the wastelands of a dying world.
The novel has become the poster boy for the blurring of sci-fi with other literary genres, although I think that argument misses the larger point: literature belongs to no genre. But it does show that a novel with sci-fi themes is again being taken seriously, not being cast aside out-of-hand based upon preconceived notions of the genre's merit.
Given The Road's success, it's no shock that Hollywood's eying it for an adaptation. Apparently, they've settled upon their main protagonist: Viggo Mortensen is now claiming he's close to signing for the role.
He's actually an excellent choice. Mortensen is a quiet sort of actor, just as the nameless father in The Road is a quiet and introverted sort of character. McCarthy's style is designed to numb us, just as the main characters are numbed, from the horror of the post-apocalyptic world, and I think Mortensen can pull that off. He's an actor for whom the sink of his eyes says everything.
Viggo Mortensen to Star In Cormac McCarthy's "The Road" [Cinematical]
Read More