Viggo In Cormac McCarthy's The Road?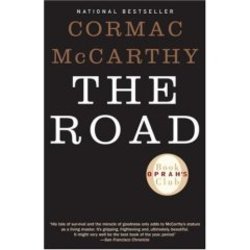 There's no doubt that Cormac McCarthy is one of the most important literary figures alive today. He takes and twists literary genres to make them completely new. So when Entertainment Weekly reported that Viggo Mortensen is in talks to star in a movie version of the Pulitzer Prize-winning The Road, McCarthy's deep, dark horrific post-apocalyptic world where cannibals lurk, I had to share it with you.
Says EW, "A rep for Viggo Mortensen confirms that the Lord of the Rings star is in early talks to star in the big-screen adaptation of Cormac McCarthy's best-selling, Oprah-approved novel The Road. The story, about a man and his young son traveling through a
desperate, post-apocalyptic world, is being adapted by Joe Penhall (Enduring Love). Aussie John Hillcoat, who helmed last year's down-under
Western The Proposition, will direct."
The magazine also says that Viggo may have trouble fitting it into his schedule. Dude: It's Cormac McCarthy! And Oprah loves it. So clear the slate. If this one's big, you're golden for years.
Read More