Vampire Sucks At Moonlight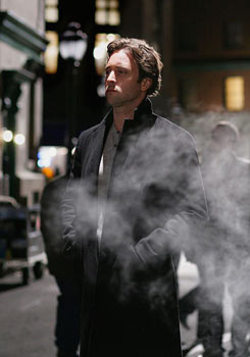 On Saturday night, I stayed home to watch a rerun of the vampire-detective CBS-TV premiere of Moonlight, which I missed on Friday due to a poetry reading. It was up against a rerun of Heroes, but Moonlight was delayed by a football game. So I viewed Heroes first.
Honestly, Heroes was scarier and more tension-filled than was Moonlight. Moonlight was too tongue in cheek and horrorless to sustain my interest, and the protagonist-detective, a vampire who wants to do good by exposing bad vampires, is too easy going and nice. It's called Moonlight. It often takes place at night. But where's the darkness? The first scene, in which I heard someone offscreen interviewing Alex O'Laughlin as a celebrity vampire on a talk show, was a witty nod to Anne Rice. It all went downhill from there.
The plot, which revolved around a smug professor-vampire and his vampire-bitten-to-death student, featured very little suspense. Plus, the star seemed to be the product placement of the Apple iPhone, which was featured as if people should still ooh and ahh over it. The actors were too pretty, and bland, too. And the story? So uninspired and formulaic, I nearly fell asleep. Sadly, the premiere of Moonlight had no edge, no difference, no appeal, and ultimately, no bite. I'll try watching a few more times: if it gets better, I'll let you know.
Read More