Upcoming Sci-Fi DVDs to Get Excited About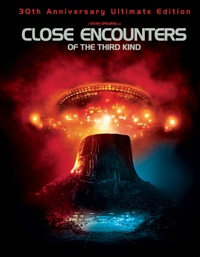 As a consumer, I am insulted when movie studios release version after version of the same movie. How gullible do they think we are? "Oh, that was the 'Standard' Deluxe Version. This is the Ultimate Gold Collection Masterclass 10th Anniversary Gonzo Collector's Edition with 2 minutes of extra footage." Grrrr!
But as a sci-fi fan, all that frustration gets pushed out the airlock and I am giddy, just the way the movie studios want me to be. Here are a few upcoming DVD releases (in addition to Futurama, mentioned in a previous post) aimed at science fiction fans that are worth noting.
---
Close Encounters of the Third Kind: 30th Anniversary Ultimate Edition (November 13th) – Another Spielberg movie (like E.T. and Jaws) from the days when the world was still discovering his magic. It's got Richard Dreyfuss, a mound of mashed potatoes and a five-note jingle that is easily recognizable to this day.
---
The X-Files: The Ultimate Collection November 6 – If there is any truth out there, it should be somewhere inside this ginormous collection of X-Files episodes contained on 61 (!) discs. See Scully turn into a believer! See the smoking man turn Mulder's world upside down! I'm thinking the multi-episode story arcs work better when seen closer together.
---
Blade Runner (December 18) – Fans can take their pick of four DVD releases: Blade Runner (Four-Disc Collector's Edition), Blade Runner – The Final Cut (Two-Disc Special Edition), and Blade Runner (Five-Disc Ultimate Collector's Edition). This last one comes in a freakin' suitcase.
---
Wonder Woman, The Complete Collection – Two words: Lynda Carter. Need I say more?
---
To be complete, I should mention some upcoming DVDs not worth getting excited about: Galactica 1980 – For reasons I mentioned here and Voyagers, The Complete Series. The only memorable thing about Voyagers is the "They Took My Show Away" skit David Letterman did when it was canceled.
Read More