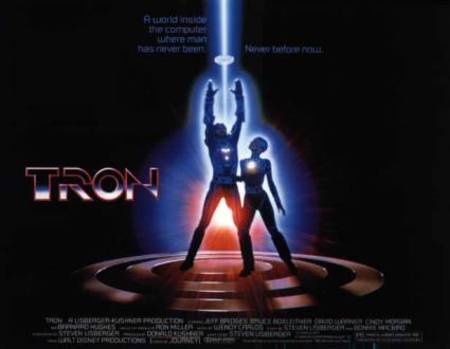 The last week's been full of excellent news for Tron fans. Hot on the heels of the news that Tron's writer and director will be helming a sort of spiritual successor called Soul Code comes news that Disney is finally picking up the Tron franchise for a sequel.
The film will be helmed by Joseph Kosinski, who seems to have become a bit of a golden boy for classic sci-fi remakes: he's also directing the Logan's Run remake. The writing duties are being handled by Lost writers Eddie Kitsis and Adam Horowitz. And original Tron director Steven Lisberger is set to produce.
I suppose my big question is whether or not our innate cultural understanding of technology has outpaced Tron's vision. Tron — brilliant film that it is — is filed in the library of my fondness under "Camp" because the central concept (that little glowing men run around inside our video games in response to our joysticks) is both Luddite and laughable when removed from my mental filter of nostalgia. It's the equivalent of someone doing a movie about the little men who live inside your radio, singing the songs that come out of it. Fun, goofy? Yes. But not serious.
And Tron was serious. Sure, it was aimed at kids and young adults, but it wasn't meant to be camp. In my experience, the worst thing you can do when sequelizing or trying to adapt a film that is classic largely because of its camp value is try to duplicate the quality in it that was accidentally bestowed.
Disney Gets a Director for 'TRON 2' [Cinematical]
Read More