Trivia challenge: Sequels with literary pedigrees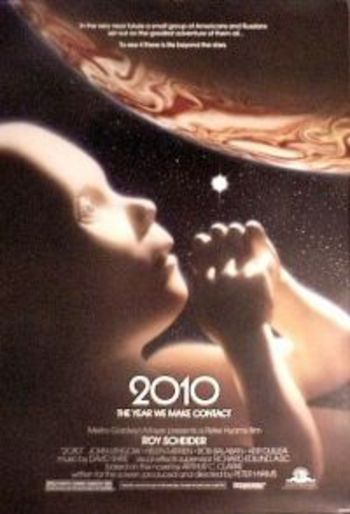 High on anyone's list of films that should never be remade is most anything by Stanley Kubrick, but most of all 2001: A Space Odyssey, as sui generis a film as has ever been made. Even the notion of making a sequel to it, without Kubrick's participation, ruffled more than a few feathers in 1984.
Yet the result, 2010: The Year We Make Contact, is as worthy a successor as could be expected. (It's playing on AMC this week.) Director Peter Hyams wisely choses neither to follow nor compete with Kubrick's singular vision, and the worst thing you can say about it is that it's an intelligent sci-fi drama that might have won a little more respect if it hadn't been seeing as trying to follow in such epic footsteps.
It helped, of course, that Hyams was working from a novel written by Arthur C. Clarke, whose work was also the basis of 2001.
And here's where my trivia-obsessed brain has been wracked to no avail: Is there any other instance of a novel which was adapted into a successful film, which led the author to write a sequel which was tehn adapted into another film?
Obviously I'm not counting series books/films, like the James Bond stories. Nor books that were written by other writers, like the Gone With the Wind sequel. I can think of sequel books that I would like to see turned into films: Thomas Berger's The Return of Little Big Man, for instance (get Dustin Hoffman's agent on the blower!), or Gore Vidal's follow-up to the notorious Myra Breckenridge, Myron.
But I can't think of another example of the 2001/2010 pattern. Can anyone help me out?
Read More