Trek XI In Search For Scott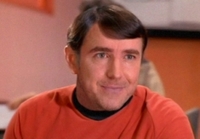 TrekMovie.com has been getting nearly all of its casting rumors right so far for the upcoming, J.J. Abrams-helmed Star Trek XI, a reboot of the franchise, so I'm tempted to give their latest a bit of credence: according to Hollywood scuttlebutt, Stargate Atlantis actor Paul McGillion is in the running for the role of Scotty.
Like James Doohan before him, McGillion is from Canada, which is exactly the sort of qualification the franchise looks for in actors to play its "foreigners." Unlike Doohan, though, McGillion was actually born in Scotland, and — a first in Star Trek history — can actually cop a respectable simulacrum of a Scottish accent.
Even Doohan's son thinks he's a pretty good choice: Chris Doohan, who actively campaigned for the role, is now throwing his weight behind McGillion.
I know that the chances that I would be the next Scotty are slim to none. That being said, I think Paul McGillion is a GREAT choice for the role of Scotty. He has a great accent and I think that he actually looks like my father. He would be a much better Scotty then McAvoy.
The grudging endorsement from the son of a long-dead character actor known for a bad accent, a beer gut and a single classic catch phrase? Can't do better than that.
Paul McGillion A Contender For Scotty [Trek Movie]
Read More