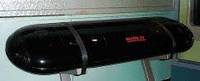 Michigan-based Eternal Image, a company engaged in "the design, manufacturing and marketing of licensed brand image funerary products", has acquired a Star Trek license to manufacture Trek-branded funeral products.
What does this mean? It means that you could force your relatives to display a Federation-approved urn on their mantelpiece. Or, you could face the truly final frontier decked out in one of those sleek, black caskets from Star Trek II: The Wrath of Khan.
If I had to choose a Star Trek death, I wouldn't want to go out like Spock. I mean, saving a ship full of people is all well and good, but if I live in the future I'd want to die in a glamorous fashion. Sticking your face into deadly radiation? That not too smart for a Vulcan. (Why didn't they have robots aboard the Enterprise, anyway? They could build a robotic wheelchair for Christopher Pike but they couldn't create a radiation capable bot? Bah!) Nor would I want to go out with a whimper. (I'm looking at you, James T. Kirk!) Exploding spaceships? That's been done to death.
However, I wouldn't mind being converted to a piece of geometric chalk and crushed into a fine, white powder like redshirt #23 on the original series episode "By Any Other Name". That's the way I want to go.
Live Long and Get a Cool Casket? [Club Jade]
Read More