The Tin Soldier And The Vampire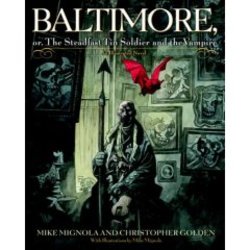 Fangs, fangs, fangs. There's yet more vampire news on the horizon, according to Variety. David Goyer, who directed Blade, is setting his sights on Baltimore, or The Steadfast Tin Soldier and the Vampire, an illustrated novel by Mike Mignola and Christopher Golden. The authors will write the screenplay, and David Goyer will direct." Mignola, of course, created Hellboy … with the great John Byrne, of course.
What's the novel about? It "tells the story of the awakening of supreme evil on Earth. Lord Henry
Baltimore is bitten by a demonic vampire bat on a WWI battlefield. The
plague destroys his family, and Baltimore creates a team to hunt and
fight the Red King, the embodiment of all evil." Here, apparently, the dead eat the dead. Cool concept!
Read More