The Sci-Fi Blockbuster From Russia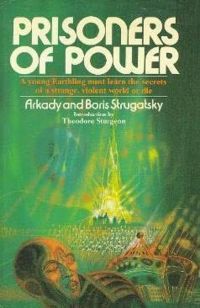 Russia is experiencing a box-office boom. Ticket sales are expected to top $500 million this year. (By comparison, 1995 box-office receipts totaled $8 million.) This increase is being seen as a direct reflection of the rise in economic status of the average middle class citizen, who is therefore spending more money on entertainment. But it's not the omnipresent influx of dubbed Hollywood movies that are attracting leisure cash, it's the production of more and more of Russian home-grown movies.
The latest Russian-produced blockbuster is the sci-fi film Inhabited Island, based on the 1971 book by Arkady and Boris Strugatsky. It tells the story of a space traveler from Earth who is stranded on an alien planet that is run by a totalitarian regime. The planet is at war with its neighbor and they use mind control to suppress their population.
I'm an avid reader of science fiction and although I've read translated stories before, I have never – perhaps to my loss – felt the need to seek out stories that were specifically translated. I always thought that I'd be reading a story that was filtered through someone else's storytelling abilities. Still, I guess the opposite argument could hold true; maybe the translator is a better storyteller than the original author?
Here's a bit of background of the original book: Inhabited Island was translated into English and released in the U.S. under the title Prisoner of Power. It is the first part of The Maxim Trilogy than continues with Beetle in the Anthill (1980) and concludes with Time Wanderers (1987). Inhabited Island even spawned the PC video game Galactic Assault: Prisoner of Power.
$30 million sci-fi story set to cash in as Russian cinema lifts off again [Times Online]
Read More