The Raven Meets Tippi Hedren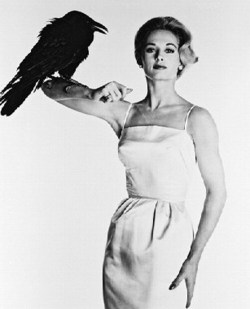 I had the opportunity this past weekend to meet legendary scream queen and starlet mother Tippi Hedren. She took a few moments to tell me about one of her experiences filming Alfred Hitchcock's The Birds.
Spectacular in an emerald wrap-dress, she painted a picture for me of a set covered in avian actors swooping and bouncing and escaping and thieving. One of these, Buddy (pictured!), kept hopping up on her dressing table, and they soon became fast friends.
"The rest were all a mess, but Buddy the Raven was so sweet."
I have to tell you goatlings, I was jealous.
She asked me to mention her cause, The Shambala Preserve dedicated to saving the great cats. Click the link just to hear the hilarious theme song, but read the material to be moved by the plight of the felines.
Read More