The Last Starfighter, Now With 100% More Music!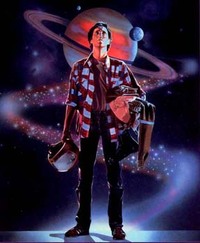 The New York Musical Theater Festival (NYMF) aims to bring bold, new Broadway musicals to the masses. Since the mainstream themes of singing cats and backstage grotesqueries at the opera have already been done, NYMF has decided to venture into the realm of sci-fi. This year they are showcasing not one, but two sci-fi musical stage productions based on science fiction movies, one of them classic, the other one retro.
The Brain from Planet X is based on the 1958 B-movie send-up in which a brain and its two alien cohorts land on Earth to take over the San Fernando Valley, beginning with the perfect Burton family. Since the movie was a send-up, the stage production becomes a musical parody.
There's also one I wouldn't mind seeing if someone would be kind
enough to send me free tickets. And hotel and plane fare. That would
be The Last Starfighter, based on the 1984 film about video
game ace Alex Rogan whose hand/eye skills lead to him be enlisted by an
alien recruiter to fight for the cause in an intergalactic war. Alex
must go beyond pixels and phosphor and save the universe for real.
This musical has been done before, and even has a soundtrack, but this is the first NYMF staging.
I have fond memories of The Last Starfighter, mostly because
I was a video game junkie at the time. The movie must have had a
lasting effect on others as well. And I'm not just talking about the
musical. I just Google-stumbled across this downloadable version of the The Last Starfighter video game! It's a replica of the arcade game developed for the film in all its polygon glory.
Now excuse me while I go save the universe…
The Last Starfighter: The Musical: The Press Release [William Shunn]
Read More