The Horror of "30 Days of Night"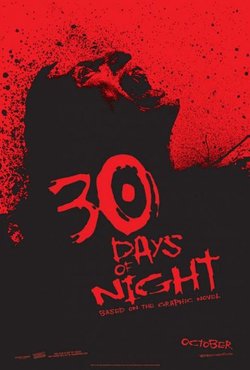 The 30 Days of Night marketing machine is beginning to churn its wheels. Although we've already stated our skepticism regarding the film, but high praise for the graphic novel, MovieWeb.com caught the Q&A with director David Slade (Hard Candy), producer Rob Tapert ( Evil Dead ) and co-screenwriter/comic creator Steve Niles at a special screening.
Though no reviews have hit the 'net, the buzz is gory positive. Given David Slade's solid Hard Candy (2005), there might be more to the film than meets the eye, despite the cruddy trailer.
Make the jump for more.
"We wanted to hide the vampires. To me, personally, that makes up some of the drama. I wanted to make a horrible horror film. As opposed to an action or a fantasy movie. The core of that is the drama. The only way to keep the human drama going was to figure out the when and the why," Slade explained. "We had to slowly introduce certain scenes, but when it comes, it comes. One of my favorite scenes doesn't have to do with the gore at all. It's the argument in the basement. It's just a great character piece. There were a number of things that we were really specific about when they would happen, and how far they would go."
While gore is great, characters we care about is even better. If we sympathize with the characters, we feel the terror. Slade got his start in the biz as a independent filmmaker, hopefully some of that dramatic sensibility will trickle into 30 Days of Night when it hits theaters October 19.
Read More