The Halloween DVD Onslaught Begins!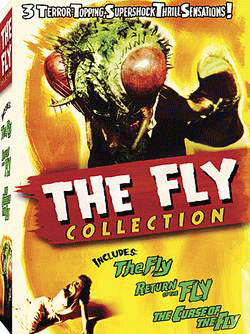 Halloween may actually be about 8 weeks away, but as far as the DVD companies are concerned, October 31 is actually next week.
On Tuesday the 11th, no more than 20 (!) classic (and not-so-classic) horror titles are coming from 20th Century Fox, MGM, and Universal in several box sets and double features that will frighten you just as much when you look at your credit card bill as when you watch the movies themselves. Let's take a look at the selections for all these titles after the jump.
20th Century Fox – Fox is bringing double features of such titles as 1972's Tales From the Crypt/Vault of Horror; Chosen Survivors/The Earth Dies Screaming (directed by Terence Fischer); Devils of Darkness/Witchcraft (starring Lon Chaney, Jr.); Blueprint for Murder/Man in the Attic; Gorilla at Large/Mystery at Monster Island; and The House on Skull Mountain/The Mephisto Waltz, all of them at $14.98 each. They're also offering The Fly Classic Collection, which gives you all of the classic Fly movies from the 50s and 60s, including a new special edition of the 1958 original.
MGM – MGM's video division is actually distributed by Fox (long story), so both are offering "Midnight Movies" double features, in this case the following from MGM: Return of Dracula/The Vampire; Phantom From 10,000 Leagues/Beast With a Million Eyes; 1982's The Beast Within/The Bat People; Konga/Yongary, Monster From the Deep. All of them offer new transfers and also retail for a scant $14.98 each. MGM is also offering Bert I. Gordon's Food of the Gods, the Weinstein Brothers' first film, The Burning, a new special edition of Return of the Living Dead, and a new special edition of Michael Reeves' The Witchfinder General (starring Vincent Price) as solo releases. Check out the artwork for these releases right here.
Universal – Like last year, Universal is packaging some of their Sci-Fi monster classics in a set exclusive to Best Buy stores; this year's Classic Sci-Fi Ultimate Collection Volume 2 will include Dr. Cyclops, The Deadly Mantis, The Land Unknown, The Leech Woman, and Cult of the Cobra, all remastered in one set for only $19.99. This one's also available on the Best Buy website and like the others, is pretty much a no-brainer purchase.
And the really scary part of all this? There are more box sets and classic horro titles yet to come! See you at the DVD store first thing Tuesday!
Read More