The final cut, or just the deepest one?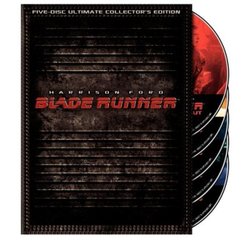 Looking at the schedule for the New York Film Festival (and noticing how many of the films I already saw in Toronto), I see that they will be screening Blade Runner: The Final Cut. Well, gee, that's pretty important, the New York Film Festival. At least they think they are…
So I read their description of The Final Cut to see what makes it so different as to receive such a prestigious send-off. Here's what they have to say:
To commemorate its 25th anniversary, [director Ridley] Scott has gone back, corrected a few details and fashioned a version that he feels is closest to what he had originally intended. One of the greatest American films of the Eighties has just gotten even better.
Of course, Blade Runner is famous for the number of details that have been haggled over, recut and rearranged over the years. If you have a few spare hours, you can check them out at imdb.com.
But is there any chance that Scott has managed to make any substantial difference in his movie, aside from updating the visual and sound quality to make it compatible with new DVD formats? Or is it all just a cynical plot to get you fans to buy the new five disk box set (or, more likely, bug your loved ones to buy it for you—hey, what a coincidence! It's coming out on December 18!!!)
Read More