The Complete Compendium of Ultraman Toys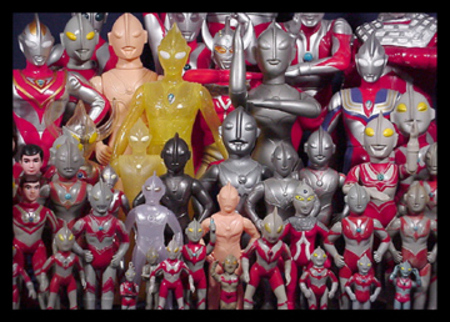 Last week, while the excellent and capable John DiNardo from SF Signal was guest blogging for me, I was in Japan, exploring the curious supershops of Akihabra.
One of the most astonishing and wonderful things that I discovered in these shops was how easy it was to acquire a complete set of all the rubbery, tentacled monsters from the Ultraman series. They also had all of the Godzilla monsters, but I ultimately preferred Ultaman: something about the monster design on that show was far goofier and surreal.
Unfortunately, AMC isn't paying me enough to secure a complete set of rubber Ultraman monster figures in Japan, home of the twelve dollar beers. The smallest of brightly colored Ultraman monster figurines cost more than the dowry of a North Korean child bride. Depressed, I had to leave Japan with the belly of my suitcase unglutted by novelty figurines.
However, in a curious convergence between my guest blogger last week on Sci-Fi Scanner and my stint in Japan, John D. at SF Signal has spotted a fantastic website completely devoted to Japanese Ultraman toys. If you're a particular kind of geek, this site will have you browsing for hours… then mortaging your house to supplement your credit for the resulting spending spree.
Ultraman Toys [Official Site, via SF Signal]
Read More