The Classic Cragston Mystery Bank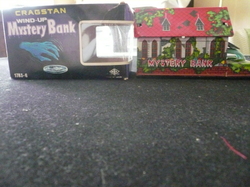 For the next two weeks, I'll be writing for you in my hometown, trying to purge the old house in which my grandmother lived of the many things that have accumulated over the years. I lived in the house here for some of my childhood years. Since I was a monster fan since as far back as I can remember, I'm going to feature
some of the old school items I still possess.
The Cragstan Mystery Bank
now sells for between $50 and $150. Back then, it was a one dollar, windup toy in which a bony green hand emerges through a door from a creepy tin house/lair to slowly cover the coin you've placed, well, where the welcome mat would be. Then, the hand, somewhat like The Thing from The Addams Family TV show, greedily pulls the coin into the house. I always wondered what the demon inside the little house was like, what the personality behind the hand was like: grimly miserly, perhaps, a bitter, haunted being who was destitute in this life, and wants to be rich in the dark beyond. Yet there's nowhere to spend money, there. And some kid kept taking the money after the hand accumulates a few bucks.
Read More