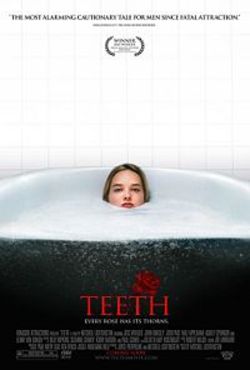 The well-regarded Sundance horror comedy Teeth finally got a release date, according to Cinematical via Fangoria. It will hit the hip towns of New York and LA on November 30. Then, in December, it will hit more theaters. I have to wonder about having a horror-ish flick premiering at that time of year. Anyone remember which horror films were hits that were released in the Christmas time period?
BTW, the wonderfully odd movie is about a woman with teeth in her, um, vagina. Of course, this is based on a psychological fear men have had probably since the era of the caveman. But the movie has a lighter take on things.
Says Cinematical: "Directed by the very friendly (and talented) Mitchell Lichtenstein, Teeth
follows Dawn (Weixler); a teen abstinence preacher who's always avoided
sexual contact because of a little problem she has down there.
Suffering from a rare case of "vagina dentata," Dawn goes about her
business telling kids not to have sex, until she, herself, feels the
need to start experimenting with a boy she's grown fond of. From there,
let's just say all the guys in the audience might find it hard to watch
the events unfold."
I can't wait, and I won't find it hard to watch. I'll just think of all the folks I know who deserve to get chomped down there.
Read More