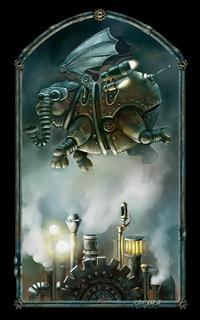 Steampunk is just one of science fiction's many flavors. The term Steampunk was coined in the late 80's and it denotes a branch of science fiction in which the ideas of the future are applied to the technology of the past. The Encyclopedia of Science Fiction (the Bible of science fiction…at least for anything that appeared before its publication in 1993) defines steampunk as "a subgenre whose sf events take place against a 19th-century background." Imagine ray guns and computers powered by steam and you begin to get a whiff of what it is. Or if that doesn't do it for you, imagine the giant, mechanical spider at the end of Wild, Wild West. (Better yet…don't.)
Steampunk seems to have made a resurgence in the past couple of years. Blogs are riddled with steampunk references and there is no sign of that slowing down. And with sites like Brass Goggles carrying the flag, I wouldn't have it any other way.
They bill themselves as "the lighter side of steampunk", so they serve up cool stuff like this Flying Steampunk Elephant Painting, a steampunk keyboard mod and a miniature ray-gun. They also mention steampunk books like Encyclopedia of Fantastic Victoriana!.
Go forth and explore steampunk! But don't be shy about searching for steampunk stuff elsewhere on the web. Where else would you find stuff like a steampunk Bart Simpson?
Steampunk Bart Simpson [Neatorama]
Read More