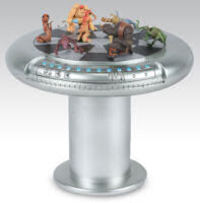 Here's a Star Wars chess set that is sure to please any chess-playing Star Wars fans. Or, at least the ones who have fifty dollars burning a hole in their Boba Fett costume. It's a replica of the holographic chess set played by Luke Skywalker and Chewbacca on the Millennium Falcon in the original Star Wars movie. That's Episode IV for any purists out there.
I like Star Wars as much as the next guy, but I am hard-pressed to recognize the names of these creatures that are represented by the pieces. Mantellian Savrip? Kintan strider? Houjix? Ghhhk?, K'lor'slug? ( I think I dated one of these in college. It was a frat party and the guys dared me.) Where's a good Lucas-to-English dictionary when you need one?
Actually, I am glad to see that Lucas is finally able to make some money from his marginally-popular endeavor. Sure, this is no Trek casket, but a man's got to make allowances.
Dejarik Holochess Set Expansion Pack [Sideshow Toy]
Read More