Splice Will Star Adrien Brody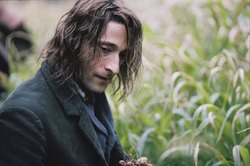 Since I was in Europe last week, I missed this nugget from Bloody Disgusting. Just want to keep you up to date: "It appears that Oscar winning actor Adrien Brody (pictured in a PR still from The Village) will topline the Guillermo del Toro produced sci-fi-horror film, Splice , which will be helmed by Cube
director Vincenzo Natali! The film is about Elsa and Clive, two young
rebellious scientists, defy legal and ethical boundaries and forge
ahead with a dangerous experiment: splicing together human and animal
DNA to create a new organism. Named Dren, the creature rapidly develops
from a deformed female infant into a beautiful but dangerous winged
human-chimera, who forges a bond with both of her creators – only to
have that bond turn deadly."
I just saw Brody in Hollywoodland on TV, which was nowhere as bad as some critics would have you believe. Brody was channeling too much Bogart, but he did pretty well overall. Splice sounds a bit like The Island of Dr. Moreau to me. Can't wait to see a trailer, though, or even a poster!
Read More