Southland Tales Trailer We've Been Waiting For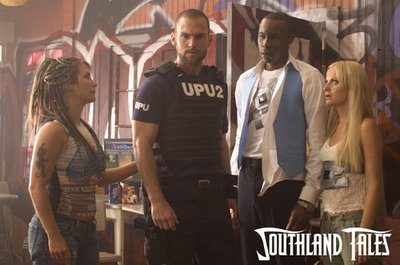 Stop whatever you're doing and take the next two minutes and half minutes to check out the long-awaited trailer for the long-awaited movie by Richard "Donnie Darko" Kelly. The trailer alone brings together Buffy, Moby, Pixies, Trousersnake, Mandy Moore, T.S. Eliot references, Draft Reinstatement, and a surprising number of SNL Alumni. It's far more futuristic than originally predicted.
Warning, the preview may leave you feeling creeped out. Or it might make you want to find the nearest wormhole and travel to November 9th when the movie hits theaters.
Oh, and you can view the trailer HERE!
Read More