Siskel and Ebert and Roeper, Oh My!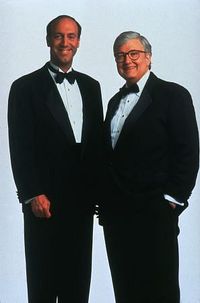 At the Movies with Gene Siskel, Roger Ebert (and later, Richard Roeper) is perhaps one of the most popular movie review shows on TV. I remember watching Siskel and Ebert go at each other when I was younger, kind of like a real life Statler and Waldorf, only throwing barbs at each other. That was always fun, but I really tuned in to watch the movie clips that they showed during the review.
Now, Buenavista has made over 5,000 of those classic reviews from At The Movies available for viewing online.
As a sampling of the sci-fi movies that they talked about, check out some of these online reviews…
There's Galaxy Quest (the 1999 comedy starring Tim Allen and Sigourney Weaver), Waterworld (the 1995 mega-flop with Kevin Costner and Dennis Hopper) and Independence Day (1996, starring Will Smith and the unbelievable computer skills of Jeff Goldblum).
Or check out the reviews for Back to the Future, Part II and Part III (the original review was not available). There's also Alien: Resurrection (1997, with Sigourney Weaver and Winona Ryder), The Empire Strikes Back (1980, the fanboy favorite of the six episodes) and Terminator 2 (1991, when Arnold decided he wanted to be a "good" killer robot instead of an evil one). And there's plenty more, so search to you sci-fi heart's content.
Read More