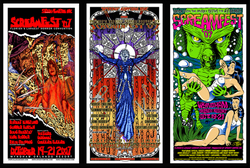 Anyone have a couch to sleep on in Orlando? These are some of the best horror convention posters I have ever seen. Click on them and marvel! Well done, Screamfest.
Here's a link a to the festival which looks like it has some awesome guests. I guess a lot of these guys live in Florida.
Wild! Screamfest! I have to figure out a way to score these.
Read More