SciFi Scanner for 09/12/2007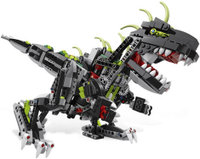 Adrian Pasdar on playing Heroes' Nathan Patrelli: "It's close to playing a Richard III-type character but in a modern dimension. All I need is a physical kind of abnormality to befall me, like hump or a limp then I would have a really Shakespearian experience!" And playing Rocky's son was like playing Falstaff, no doubt. (Edit: Argh, I always confuse the Patrellis. Thanks to John L. for remining me Nathan Patrelli's the other one.)
• The tiniest Star Wars novel. No joke. if they printed the entire Expanded Universe in that size, you could easily keep the entire library smuggled up your rectum.
• Transformers 2: not happening any time soon because of the writer's strike.
• Photos from Zack Snyder's Watchmen shoot, including a gorgeous look at the proposed location for the Vivarium.
• The awesomest robot Lego dinosaur.
Read More