SciFi Scanner for 09/05/2007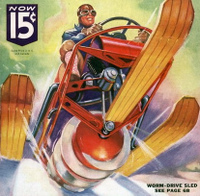 • The ultimate Flickr group for the wistful idealist who wonders where the future went: In The Year 2000.
• The Science Fiction Writers of America sent take-down notices to popular online site Scribd, supposedly because stories from their writers had been posted up in violation of copyright laws. The only problem? Not only were a good portion of the documents either public domain or Creative Commons, but many of the authors they claimed to represent have refused to be represented by the organization. Ooops.
• A Platinum Gold Gundam Robot worth 30 million yen.
• Stephen Hawking thinks science should be as exciting as science fiction, so he's writing a book for young adults that features teenagers exploring the cosmos thanks to a super computer and a rogue meteorite. I'm not sure he's going to have much success when he's saying things like, "Less science fiction, more science fact!" as he's writing it, though.
• The Guardian refutes Ridley Scott's nonsense assertion that sci-fi is as dead as westerns.
Worlds Without End is an excellent site for recommending and finding your next science fiction books to read.
• Via SF Signal, The Top 10 Greatest Sci-Fi Shows Of All Time. Star Trek: The Next Generation wins? Pfft.
Read More