Sci-Fi Luminary Madeleine L'Engle Dies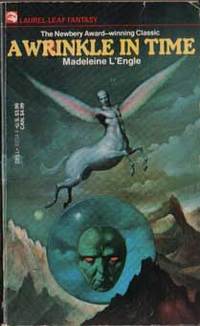 Ugh. Publisher's Weekly is reporting that Madeleine L'Engle died last night in her home in Connecticut, at the age of 89.
There's not more information available, but what more is really needed? For the last 45 years, Madeleine L'Engle's Wrinkle in Time series has been formative in introducing young pre-teens to the genre of science-fiction, largely due to its embrasure by schools.
And, you know, I'm one of them. I still remember the first time I read A Wrinkle in Time, sitting riveted in the lobby of Malden City Hall as my parents snaked through the line to vote. I still remember the mystery and excitement of tesseracts, the alien world of Camazotz, and the disembodied brain in a jar known only as IT. And you know? I still think I have a crush on Meg Murry.
The genre's lost one of its most important figures: a wonderful woman who led children by the hand as she nurtured in them a lifelong love of science-fiction. She'll be missed. This would be the perfect time to pull A Wrinkle in Time off the shelves and revisit it.
Obituaries: Esther Mitgang; Madeleine L'Engle [Publisher's Weekly]
Read More