"Saw IV" Clips Cut Into Jigsaw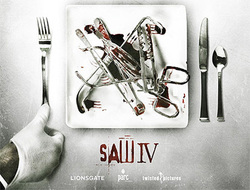 As the teaser trailer states, "if it's Halloween, it must be Saw." But with only a few grisly posters and a teaser trailer only announcing the film, little is known about jigsaw's latest outing (despite his expiration). With the release date about a month away, the Saw IV marketing is just getting started, as a new Internet trailer and TV spot have cut their way onto Web sites and Blood-Disgusting.com got its hands on two new stills from the film.
The two video clips are similar, as both are named "autopsy," but the "trailer" is a graphic display of jigsaw's autopsy — brains, guts, the whole nine yards. Perhaps more interesting is the TV spot that cuts out the blood and adds a Jigsaw voice-over that sheds some light on the plot. Apparently, Jigsaw had the foresight to set up ghastly traps before kicking the bucket. In fact, I think he's set up a good two or three more sequels of traps, and maybe even some in space.
Take the leap to check out the embedded TV Spot.
To check out the unrated Internet trailer, check out IGN.com.
Read More