Russell Mulcahy's Directing Zen Vampire!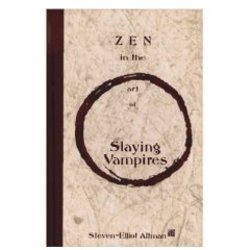 Who doesn't like a Manhattan vampire? That's what Resident Evil: Extinction director Russell Mulcahy must have thought when he signed on to direct Zen in the Art of Slaying Vampires, based on Steven-Elliot Altman's first book in the bloodsucker trilogy. Gee, I really hope they shoot this one in actual Manhattan: it'll be a crime not to. And they better do this right since it's a deep, introspective tome.
Reports Variety, "Protag is turned into a vampire as he and his lover are attacked in
lower Manhattan. She dies, and he struggles to overcome his murderous
instincts and thirst for blood through Zen meditation. A struggle for
his soul ensues between the bloodsuckers and the zen masters." Looks like they're even looking into making a video game on this one. Possible franchise? I think so. I mean what else is Mulcahy doing now that the Resident Evil trilogy is done? Actually, about five films. Still, I firmly believe this one's a smart move, that, if done with care, could elevate the status of Mulcahy's directing work.
Read More