Robotic Dalek Jack'O'Lantern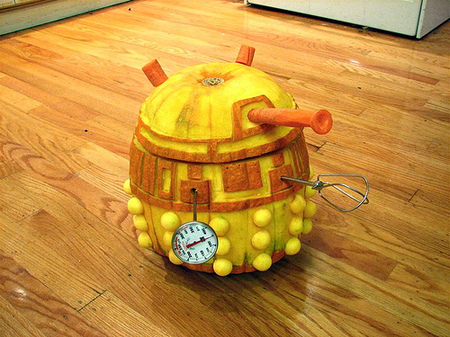 Halloween is creeping along, and that means it's time for every sci-fi enthusiast to start thinking about this year's themed Jack'O'Lantern masterpiece.
I know that you know what I mean. It really seems like the bar's been raised on the pumpkin carving art since I was a kid. When I was a boy, it seemed like any collection of wobbly, haphazard triangles sliced into an orange melon was enough to be considered suitably spooky. Now? If it isn't a precise reconstruction of a paint of Hieronymous Bosch with lasers shooting out of it, you're the joke of the neighborhood.
I don't think you'll have anything to fear if you can manage to put together this Dalek Robot Jack'O'Lantern though. Note: it's not just a pumpkin. It's not just a Dalek. It's a robot pumpkin Dalek. It motors around your front walk, smashing it's egg whisker into the legs of small children, shrilly shrieking "Exterminate!" at them, as if voicing out loud the very consideration their parents entertained about their offspring in utero. Wonderful.
Building A Robot Dalek Pumpkin [Evil Mad Scientist]
Read More