Right Movie: Wrong Turn 2: Dead End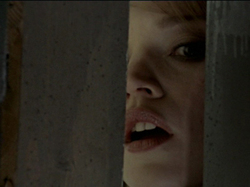 On this day at Cinematical, Scott Weinberg is raving about Wrong Turn 2: Dead End, which he's seen as part of Fantastic Fest. Says Weinberg, "I make no apologies: This flick is a whole lot of good, gory fun. A
follow-up to the 2003 Rob Schmidt movie Wrong Turn — which focused on
a bunch of young adults who stumble across some vicious mutant
cannibals in the woods of West Virginia — Wrong Turn 2: Dead End
provides a really amusing way for our latest victims to end up in
trouble: They're the contestants on a Survivor-style reality
series — and let's just say the program's location scouts were
rrrrreally stupid. Because our six contestants (and a few poor
producers) are actually tramping around Mutant Cannibal Country … and
things are about to get splattery."
You know, I wasn't that jazzed about Wrong Turn back in 2003, although I do like the oft-sexy Eliza Dushku. But if I'm down for some make-no-judgments gory fun, I'll check it out. Anyone out there love Wrong Turn who's really jonesing for the sequel? It's supposed to be really, really bloody.
Read More